BEGININGS AND THE NFB
COMMERCIALS
AWARDS
JURYING
RETROSPECTIVE SCREENINGS
PARTICIPANT IN FILM EXHIBITIONS
In the 1960's, filmmaking was undergoing a democratization process similar to the one that happened a few decades later with digital technology: the popularization of cheaper 16 and 8mm film stock meant that film making was almost affordable for everyone. It began to be taught in liberal arts colleges. Harvard University offered a one year animation class taught by Derek Lamb who came from London via Montreal and the National Film Board of Canada, where there was a culture of purposeful short animation films.

Animation at Harvard in 1968, when I took the course, was taught not as professional training to become an animator, God forbid, which would have involved laborious cel painting, team work, and industry standard drawing skills. Rather, it was taught as a form of artistic self-expression, perhaps like writing poetry, and the class was open to everyone. We came from all parts of the university as well as MIT. Drawing abilities and film knowledge were not prerequisites. And so we animated keychains and quarters, breathing life into inanimate objects. We did stop motion and pixilation and worked with cutouts. I discovered that I could draw with beach sand and could make the drawings move. We drew however we could, and we told stories. The main goal was to make it move, and we believed Norman McLaren's observation that what happens between the frames is more important than what happens on each frame.

I remember very little formal teaching. I don't think we were taught film language or editing. We learned to hot splice our original film shots together and make our own A and B rolls. These were days of film and laboratory processing, when you waited on pins and needles for the driver to return from the lab with the rushes, and saw what you had shot a week earlier. All my animating life I did not know how to make an edited cut, and found my way around the problem by making morphed scene changes. Some would say my animation is noteworthy for its moving camera and morphing scene changes. I credit my particular animation trajectory to the animation class, where we were left alone for the most part and found our own solutions. I loved the hours I spent hunched over a lightbox. There wasn't structure or schedule but there was enthusiasm, and sharing, and energy in that basement room of the Carpenter Center, and we were carried away by the animated life we were creating.

---

My animated films are known for their story telling, emotional content, and graphic style, which evolved from the innovative handcrafted animation techniques I invented. At different times, this has been beach sand manipulated on a lightbox, watercolor and gouache fingerpainting on glass, and images made by scratching in the soft emulsion of exposed color 35mm and 70mm film stock.




My first film, 'Sand or Peter and the Wolf', was made with a jar of local beach sand poured out onto a light box. Lit from below and manipulated with my fingers, the film's black and white silhouetted sand figures move in a fluid and shadowy world. The camera was fixed to the wall above the lightbox. From these beginnings, I developed a style of animating that was an ongoing process of drawing, shooting and redrawing the images to create a sense of movement. My subsequent films are refinements and extensions of this handmade straight ahead under-the- camera technique.


---
Mary Beams and I discuss our early animation work with Robert Gardner
in his TV broadcast program Screening Room:
---
In 1972 I moved to Montreal at the invitation of The National Film Board of Canada, a publicly funded Canadian production center which allows it's filmmakers considerable creative freedom. It is famous for it's animation films. I worked at the Film Board as a staff animator/director until 1991. And I became a naturalized Canadian citizen.
My major animated films from the Montreal years are:

- The Owl Who Married a Goose(1974) an adaptation of an Inuit legend,
- The Street (1976) adapted from a short story by Mordecai Richler, which received an Academy Award nomination and was voted 2nd best animation film of all time by the Olympiad of Animation Los Angeles 1984,
- The Metamorphosis of Mr. Samsa (1977) adapted from Franz Kafka's story 'The Metamorphosis' and begun with a grant from the American Film Institute,
- Interview (1979) an autobiographical collaboration with director Veronika Soul,
- Two Sisters/Entre Deux Soeurs (1990) an original story etched in the layers of 70mm film emulsion.


---


The Owl Who Married a Goose



The Street

The Metamorphosis of Mr Samsa
| | |
| --- | --- |
| Interview | Two Sisters |
To watch the following films at the NFB on-line screening room:
CLICK HERE
to view The Street
CLICK HERE
to view La Rue
CLICK HERE
to view The Owl Who Married a Goose
CLICK HERE
to view Le Mariage du Hibou
CLICK HERE
to view Two Sisters
CLICK HERE
to view Entre Deux Soeurs
CLICK HERE
to view Kate and Anna McGarrigle
In 2009 the NFB made a compilation dvd of Leaf's films. Caroline Leaf: Out on a Limb.

In 1984, the American Academy of Motion Picture Arts and Sciences (Oscars) organized a mammoth event with 50 critic and filmmaker judges from all over the world. All animated films ever made were judged in this international 'Olympic' competition, and my film 'The Street' came in second, winning comfortably over Disney and all other commercial productions' John Canemaker. This event was organized to coincide with the 1984 Olympic Games which were held in Los Angeles. First place went to Yuri Norstein's film Tale of Tales.
A similar poll of expert judges was organized by ASIFA International in 2010 to name the 50 best animation shorts of the last 50 years. The Street remains in the top 10.
| | | |
| --- | --- | --- |
| | | |
| | The Street | |

My under-the- camera techniques were solo work. They did not allow for the kinds of teamwork that produced traditional cel or computor drawn styles of animation. I was director and animator for all my films, as well as designer, story adaptor and/or scriptwriter, and I worked closely on the sound tracks and editing my films. The films were initially distributed in 16mm film format for educational purposes to Canadian audiences. Because of the National Film Board's worldwide distribution system and the network of animation film festivals that were springing up, my films also became known to a world audience interested in animation.

CLICK HERE to view a review of my animation by Haden Guest, director of the Harvard Film Archive.
CLICK HERE to view a 2 page fim bio.
CLICK HERE to view a shorter film bio.
CLICK HERE to read an interview of Leaf talking to Nag Vladermersky in 2003.
CLICK HERE to view Hand-Crafted Cinema Animation Workshop with Caroline Leaf 36 minute documentary made during a direct animation workshop in Queensland Australia.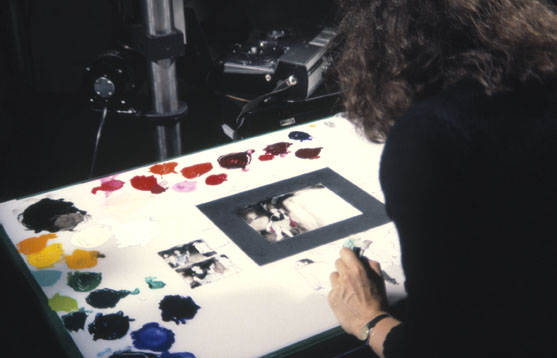 ---

I made a small number of commercial animations. In Montreal, I worked for Pascal Blais Productions. I was affiliated with Acme Filmworks in Los Angeles. With Acme I made a 4 minute film commissioned by the Underground Railroad National Freedom Center in Cincinnati, Ohio.



Slavery © National Underground Railroad Freedom Center
---
GRANTS AND HONOURS
ASIFA Prize Life Time Achievement Award, London International Animation Festival, London November 2022
Letter from ASIFA explaining the award

Past recipients of the ASIFA Prize: asifa.net/what-we-do/asifa-prize/

Dragon of Dragons Life Time Achievement Award, Krakow Film Festival, Krakow, Poland May 2019

Caroline Leaf is the author of few films, but here a small amount translates into outstanding quality. The Dragon Dragons Award was given to her for three reasons: her ability to tell stories, inventiveness and innovation in the field of materials and techniques for creating animations, and finally her openness to different cultures –
Tadeusz Lubelski, film critic and theoretician, Chairman of the Program Council
More information about the award including past recipients of the Dragon of Dragon award
External Examiner for the Royal College of Art London 2016 - 2018

Special Guest of the Ottawa International Animation Festival as first Grand Prix recipient, Ottawa, Canada, 2016

The Caroline Leaf Collection established at the Harvard Film Archive, Carpenter Center for the Visual Arts,
Harvard University, 2008. Address: 24 Quincy Street, Cambridge, Mass. 02138, USA

Voted member of the Academy of Motion Picture Arts and Sciences, Beverly Hills, CA 2008

Life Achievement Award Prix Klingsor 2006, the Bienale animacie Bratislava, Bratislava, Slovakia 2006

Life Achievement Award Luna de Valencia, Valencia, Spain 2004

Masterworks Award for 'The Street', AV Preservation Trust, Ottawa, Canada 2004

Master of Arts, The Surrey Institute of Art and Design, University College, Farnham, 2003

Doctor of Fine Arts, College for Creative Studies, Detroit, Michigan, 2003

Life Achievement Award, 12th World Festival of Animated Films Zagreb, 1996

Norman McLaren Award, Ottawa 1994

Canada Council Production Grant, 1983

Nomination to the British Academy of Film and Television Arts, London, 1976

Wendy Michner Award, Canadian Film Awards, 1976

Loeb Grant, Harvard University Fellowship, 1970

American Film Institute Independent Filmmakers' Grant, 1970

Member of the Royal Canadian Academy of Arts

HONOURS
---
Honors include being a jury member for international animation festivals in Cracow, Poland, Annecy France, Varna Bulgaria, and Ottawa Canada. I had a Cineprobe retrospective at New York's Museum of Modern Art, was a guest of the Israel Film Archive and Cinemateque in Jerusalem, and in 1985 was a guest of the Union of Soviet Filmmakers, touring the former Soviet Union with my films. My films and I were featured at theAmerican Film Institute Lanz Seminar of Animation in Los Angeles, and my films were shown for 2 weeks at the Film Forum in New York .

I was honored with a Guardian Lecture at the National Film Theater in London. My work was displayed in the Museum of the Moving Image, London Southbank.

In 1996 I received a Life Achievement Award from the Zagreb International Animation Festival.

2016 - 2018 External Examiner for the Royal College of Art, Animation, London
| | | | | |
| --- | --- | --- | --- | --- |
| photo: Marion Walter at Museum of the Moving Image | | | | |
FILM AWARDS INCLUDE:
---
The Street Academy Award Nomination (1977), Grand Prix at the Ottawa International Animation Festival (1976), named 2nd best film of all time in the world by the Olympiad of Animation in Los Angeles (1984),
The Metamorphosis of Mr. Samsa Grand Prix at the International Festival of Short Films Cracow, Poland (1978),
InterviewGrand Prix at Melbourne (1980),
Two Sisters Grand Prix at the 4th Los Angeles International Animation Celebration (1991), Grand Prix at Ottawa International Animation Festival (1992).
---
International Festival of Short Films, Cracow, Poland, 1979

International Festival of Animation, Annecy, France, 1979

Athens Film Festival, Athens, Ohio, 1979

The Artists' Foundation, Fellowship Program for State Grants in Film, Boston, Mass,1980

International Animated Film Festival Varna '81, Varna, Bulgaria, 1981

Canadian Independent Short Film showcase of the Canada Council, Toronto, Ontario, 1982

Concordia University Student Film Festival, Montreal, 1983

Cinanima '84, Espinho, Portugal, 1984

Selection Committee Concordia University of head of Animation Dept, Montreal, 1988

Ottawa '88 International Animation Festival, Ottawa, 1988

International Festival of Short Films, Bilbao, Spain, 1999

BAFTA animation awards, London, England, 1999

BAA (British Animation Awards), London, England, 1999

Chiavari Animation Festival, Chiavari, Italy 2004

BAA (British Animation Awards), London, England, 2008

Zagreb World Festival of Animated Film - Animafest main jury, Zagreb, 2008

Fantoche International Film Festival, Baden, Switzerland, 2009


BAA award by Leaf



---
Filmex, Los Angeles, California, 1977

Center Screen, Carpenter Center, Harvard University, Cambridge, Mass., 1978

McGill University, Montreal, 1978

Philadelphia College of Art, 1979

New School for Social Research, New York, N.Y., 1979

Museum of Modern Art, Cineprobe retrospective, New York, N.Y., 1979

Port Washington Public Library, Port Washington, N.Y., 1979

South Carolina Arts Commission Independent American Filmmakers Southern Circuit, 1980

Chicago Art Institute, Chicago, Illinois, 1980

Concordia University, Montreal, 1979,1981,1983,1985,1987

Champlain College, Montreal, 1979

John Abbot College, Montreal, 1982

Donnell Library, New York, N.Y., 1982

Bezalel Academy of Arts and Design & the Israel Film Archives and Cinemateque, Jerusalem, Tel-Aviv, Haifa, (Dept of External Affairs Speakers'Program Travel Assistance),1982

Canadian Embassy in Rome, Rome, Italy, 1982

Sheldon Film Theater, University of Nebraska, Lincoln, Nebraska, 1983

New Cinema Cooperative, Omaha, Nebraska, 1983|

Michigan State University, East Lansing, Michigan, 1983

State University of New York (SUNY), Purchase, N.Y., 1983

The Swedish Film Institute, Stockholm, Sweden, 1983

Film School of Denmark, Copenhagen, Denmark, 1983

Rhode Island School of Design, Providence, R.I., 1985

Cambridge Animation Festival, Cambridge, England, 1985

Guardian Lecture, National Film Theater, London, England, 1985

Union of Soviet Filmmakers guest, Moscow,Yerevan, Tblissi, Kiev, USSR, 1985

Cinema Femme, Festival of Women's Films, Montreal, 1986

The School of the Arts Institute, Chicago, Illinois, 1987

VII Semaine du Dessin Anime, Bruxelles, Belgium, 1988

La Cinemateque Quebecoise, Montreal, screening and Carte Blanche, 1988

American Film Institute Lanz Seminar on Animation, Los Angeles, 1988

Dartmouth College, Hanover, New Hampshire, 1988

The Film Forum, New York City, 6 - 19 May, 1992

Cinemateque Quebecoise, Montreal, 1992

Chapter Arts Center, Cardiff, Wales, 1992

Filmhouse, Edinburgh, Scotland, 1992

Harvard University, Cambridge, Mass., 1992

Port Washington Public Library, Port Washington, N.Y., 1993

16th Norwegian Short Film Festival, Grimstadt, Norway, 1993

Queensland College of Art, Griffith University, Brisbane, Australia, 1994

Queensland Art Gallery, Brisbane, Australia, 1994

The Film Centre, 2nd Irish Animation Festival, dublin, Ireland, 1994

Harvard University, Cambridge, Mass., 1995

Cal Arts, USC, Dreamworks, Los Angeles, 1996

Folimage, Valence, France, 1997

Harvard Film Studies Center, Cambridge, Mass., 1997

Museum of the Moving Image, South Bank, Waterloo, London, England, 1997

Surrey Institute of Art and Design, Farnham, England, 1997

ANIMA MUNDI '97, Rio de Janeiro, Brazil, 1997

The University of the Arts, Philadelphia, 1998

Universidad del Pais Vasco, Bilbao, Spain, 1999

Filme in Schloss, Weisbaden, Germany, 2000

Academy of Media Arts, Cologne, Germany, 2001

Royal College of Art, London, England 2002

Art and Animation Symposium, Tate Modern and National Film Theater, London, England 2002

Rencontres Internationales, Bretagne, France, 2002

Zagreb International Animation Festival, Zagreb, Croatia, 2002

Forum des Images, Paris, France 2003

Creativity Panel, Dartmouth College, Hanover, New Hampshire 2004

National Film Theater, London, participant in symposium 'Textures of Memory', February 2005 Ensad, Paris, March 2005

BAFICI screenings Buenos Aires, Neuquen, and Cordoba, Argentina, April 2005

Norwich International Animation Festival, symposium participant, October 2005

The Arts Institute at Bournmouth, March 2006

The National Film School in IADT, Dublin, Ireland, March 2006

Wuhan Animation Salon, symposium participant, Wuhan, China, November 2006

Beijing Film Academy, November 2006

La Caixa, Palma, Majorca, June 2007

Participant in the Marc Davis Lecture, Academy of Motion Picture Arts
and Sciences, Los Angeles, October 2007

Zagreb World Festival of Animated Film, Zagreb, June 2008

Regina Public Library, Regina, Saskatchewan, February 2009

International Animation, Comics & Games Forum, symposium participant, Jilin, China 2009

Cinematheque Quebecoise, Montreal, Canada 2009

Goteborg International Film Festival, Animator in Focus, Goteborg, Sweden, 2010

Poznan International Animated Film Festival, Poznan, Poland, July 2010

Ottawa International Animation Festival, masterclass, Ottawa, October 2010

Tricky Women, Vienna, Austria 2011

Accademia di Belle Arti, Palermo, Italy, June 2011

The Barbican Centre, masterclass, London, England, July 2011

Tokyo University of the Arts, Yokohama, Japan, October 2011

Carpenter Center, Harvard University, Harvard Film Archive, Cambridge, Mass. November 2012

Animateka, Ljubljana, Slovenia, December 2012

2nd International Animation Festival Chilemonos, masterclass and screening, Santiago, Chile, May 2013

Festival International du Film de La Rochelle, La Rochelle, France, July 2013

Krakow Film Festival, Krakow, Poland, May 2019


commissioned for Nicole Salomon
---
The Owl Who Married a Goose was included in Watch Me Move, an exhibition of all time world wide animation which opened at The Barbican, London, then toured to Calgary Canada, Taipei Taiwan, Rio de Janeiro Brazil, Detroit USA, Monterrey Mexico, Madrid Spain, and Moscow Russia.

TWO SISTERS included in SPACETRICKS/TRICKAUM at the Museum fur Gestaltung, Zurich, 2005: continuing to James Hockey Gallery, Surrey Institute of Art and Design, Farnham, England, from February 2006.

Sand animation permanent and travelling exhibition National Film Board of Canada, Montreal

70mm etch-in-film technique and paint-on-glass
Private collection, California 70mm etch-in-film frames from 'Entre Deux Soeurs'

Permanent collection of MOMI  Museum of the Moving Image, South Bank, London, England